A workshop (Fire Protection) was held at the University of Science and Technology of Fujairah, in cooperation with the General Directorate of Civil Defense in Fujairah, within the campaign.
Wednesday, Sep 25, 2019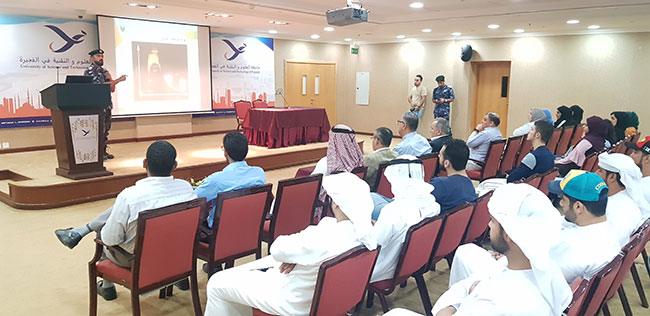 This is part of the General Awareness Plan of the General Command of 2019, with the aim of strengthening public safety measures and spreading a culture of safety and preventive among members of the community, and directing them to comply with the prevention and safety requirements set by the Civil Defense for the safety of their homes and the prevention of fire risks,
First Assistant / Hamza Ibrahim of the Civil Defense that the campaign « Fire prevention » is one of the main campaigns that promote the culture of dealing with fire, and include safety measures at home, and the definition of fire extinguishers and how to use them.
The chancellor of USTF Prof. Ali Abu Al Nour said to students to the concerted efforts of all segments of society to support the efforts of the Ministry of Interior and the General Command of the Civil Defense and assume their responsibilities and play their vital role as partners in the protection of themselves and those with fire risk.
---