Institutional football League
Sunday, Apr 14, 2019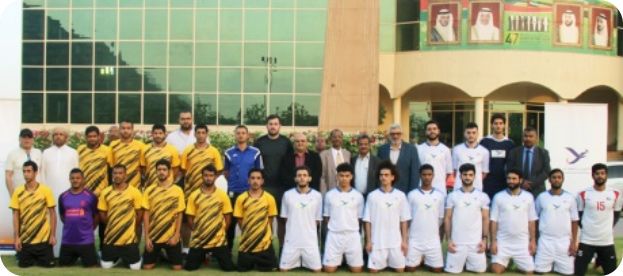 Location | Football playground at USTF - Fujairah, United Arab Emirates
The tenth edition of the University's Championship kicked off in Fujairah, which will continue until the 30th of this month with the participation of eight teams representing various institutions in the Eastern Region. The opening was wonderful and beautiful as being stated by audience and Prof. Ali Abu Al-Nour – USTF Chancellor.
The ceremony began with the national peace and then a wonderful recitation of the Holy Quran followed by the opening speech delivered by Abou Al-Nour, during which he stressed the importance of these activities in the embodiment of cohesion and interrelationship between the university and the institutions of society.
For his part, Ramzi Ghneim, the sports supervisor and general coordinator, stressed that the aim of the tournament is to enrich the sport activity in the university and to discover the football talents and create a spirit of competition. He expressed his happiness with the great response found by the idea of ​​the championship of institutions that enter its tenth year in a row and attract large numbers of stars in the eastern region.
The opening matches included four games, all of which were strong and exciting. The first match resulted in the Civil Defense winning the University's team 3-1. In the second match, the Sport King Circus team beat Mohammed Bin Hamad (A) 14-2. Al Awni Group won Emaar Contracting (4-1) and Technical College (5), and next day the first two games are held between Al Awani Group against the Technical College, followed by Emaar against Mohammed bin Hamad School (B).
---