The Deanship of Student Affairs at the University of Science and Technology of Fujairah has organized academic meetings for students who are already enrolled and new students joining the first semester of the new academic year 2019-2020
Wednesday, Sep 25, 2019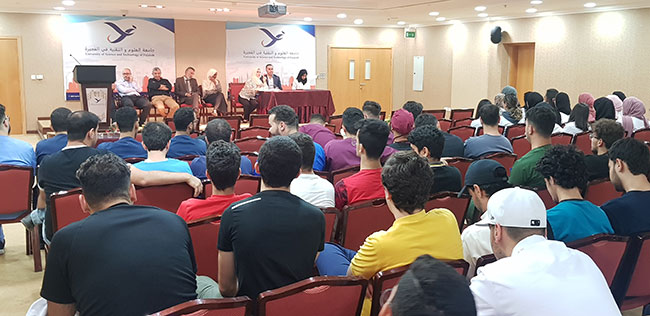 The deans welcomed the new students in the following faculties (Dentistry, Engineering and Information technology, Humanities and sciences, Business administration, Architecture, Arts and design, Pharmacy and health sciences, Mass communication, Law), expressing their happiness to join the university of science and technology of Fujairah. The university is always interested in its students, pointing out that they will be the focus of care by the university administration and faculty and administrative staff, as the university seeks to provide the appropriate educational environment for all students.
The deans of the faculties at the university also offered a number of tips and instructions for the new students during the meeting, the most important of which was the need for the student to communicate with the academic advisor regarding the subjects offered and registration, in addition to constant communication with the Deanship of Student Affairs to take advantage of its student services and various activities that contribute to refine the personality of the student and gain experience And different skills
also confirmed that the Deanship of Student Affairs at the university is ready to provide cultural, social, sports and artistic activities through its various departments during the student's study stage.
---