The 13th Student Scientific Conference
Thursday, Apr 29, 2021
The 13th Student Scientific Conference
at University of Science and Technology of Fujairah under the Slogan
Forward Together with Research and Innovation to the Emirates Next Fifty
During the Period 27-28 April 2021
University of Science and Technology of Fujairah (USTF) believes in the necessity of continuing the co-curricular and extra-curricular annual students' activities, despite the outbreak of the COVID-19, which has reached a pandemic stage, forcing students all over the country, including our USTF students, to shift to distance learning, in accordance with the instructions of the Ministry of Education (MOE) in the United Arab Emirates (UAE), to protect students and ensure the continuity of the educational process.
The annual regularly held Student Scientific Conference is one of the most important annual activities at USTF and has been organized without interruption for the last thirteen years in a row. This year, the conference was held on Tuesday and Wednesday, 27th and 28th of April 2021, under the slogan "Forward Together with Research and Innovation to the Emirates Next Fifty."
All students were invited to participate in the conference, especially those who are about to graduate because of their advanced experience in conducting research. Guidelines for conference participation and presentations were announced to students, along with the research evaluation criteria. Students were asked to address the main themes of the conference and its slogan, as a part of the university social responsibility and to highlight the students' role in effective contribution to important national and global challenges.
The number of participating students from USTF 6 colleges reached was 109, and the number of research teams was 46 teams, supervised by 22 faculty members according to the following table:

Students presented their research projects online, in front of a jury composed of three faculty members, excluding the faculty member supervising the research project.
The conference results, showing the winning students or teams, research titles and research supervisors, are illustrated in the following table: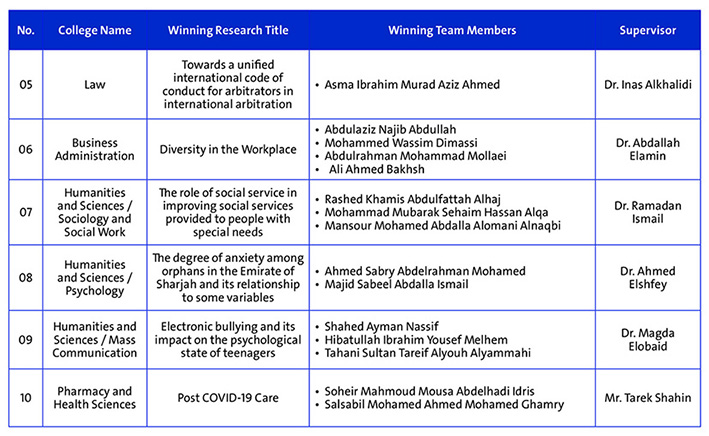 Electronic certificates have been prepared for all participating students, teams and students winning first positions in each college, in addition to certificates for supervisors, assessors and organizers.
---