University of Science and Technology of Fujairah Wins Best Technical Solutions in UAE IoT & AI Challenge Regional Competition – 3rd Edition
Monday, Oct 18, 2021
University of Science and Technology of Fujairah Wins Best Technical Solutions in UAE IoT & AI Challenge Regional Competition – 3rd Edition
The University of Science & Technology of Fujairah (USTF) has participated in UAE IoT & AI Challenge Regional Competition – 3rd Edition. The university has participated in two categories: Startup & Graduation project, in which participated teams won the Best Technical Solution across UAE.
The UAE IoT & AI Challenge is a capacity building and pre-incubation program for senior university students, high school students, and startups that have innovative ideas in the areas of Internet of Things (IoT), Artificial Intelligence (AI) and related fields.
The competition aims to stimulate and help build an ecosystem supporting an Emirati innovation-based economy through strategizing, facilitating, and promoting innovation, entrepreneurship, and the creation of intellectual property on The Internet of Things (IoT), Artificial Intelligence (AI) and their applications.
USTF has participated with two projects, the first project titled "Guide Me" has won the best Technical Solution amount the Graduation Project track. The project by student Alya Abdu Rahim Osman, a third-year student at College of Pharmacy.
Guide me App helps tackle today's biggest travelers' obstacle that has been caused by COVID-19. The app is designed for international travelers, where they will receive an SMS to download the app upon their arrival to the airport.
Users will be able to be reminded of any upcoming PCR tests dates before the travel day, flights booking reminders, they will also be able get points as they use the application. Another, feature that can be offered by the application would be the ability to check for available job opportunities within the country and the users will be able to apply for any of the job openings found in the app.
The other great part of the application is the possibility of receiving information about the different announcements of events that are held within the country, and their opening dates. Flight bookings are also possible within the application, and users who do the booking would also be getting points to be redeemed later.
The other project participated by USTF was titled "EYAB", an innovative accident awareness positioning application that is designed for auto reporting of vehicle accidents. The project was represented by Engr. Muna Ali, an Electrical Engineering graduate, and current staff member at USTF. The project has won the Best Technical Solution among all participated startup track projects.
It's worth mentioning that the event has took place in GITEX 2021, that has started on Sunday, 17/10/2021. USTF is looking forward to taking part of upcoming editions of the competitions.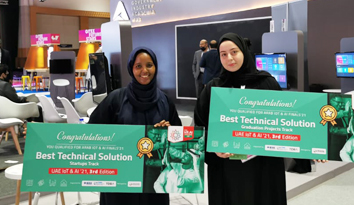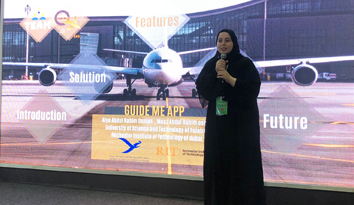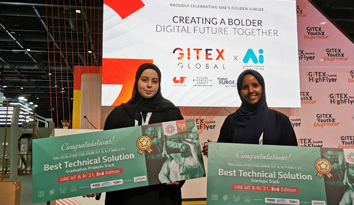 ---