Dubai International Pharmaceuticals & Technologies Conference and Exhibition
Friday, Jan 13, 2023
The College of Pharmacy and Health Sciences participated in the Dubai International Pharmacy and Technology Conference and Exhibition (DUPHAT) on January 10-12, 2023, at the World Trade Center - Dubai.
The Dubai International Pharmacy and Technology Conference and Exhibition is the most prominent exhibition in the field of pharmacy in the Middle East and North Africa region. DUPHAT covers the pharmaceutical industry, over-the-counter drugs, retail products, and distribution within the pharmacy network. DUPHAT envisages to be the most ideal platform for pharmacists, industry professionals, marketing professionals, academicians, scientists, students as well as associated healthcare professionals to interact and share their knowledge and expertise.
In the context of student contests at the university and college level, four student groups from the College of Pharmacy & Health Sciences took part in presenting their scientific research posters in DUPHAT-2023. Afra Hamdan, Nadya Saeed, Shamsa Salem, and Shouq Mohammed, who were in one of the four student groups and were supervised by Prof. Yaser Alworafi, received the first prize for the best informative pharmacy student poster among all participating universities for their work on the topic of "PATIENT ADHERENCE TOWARDS MEDICATIONS AMONG PUBLICS IN UAE."
Prof. Sumia Sir ElKhatim, Acting Dean of the College of Pharmacy and Health Sciences – appreciated efforts made by college students and professors to represent the college and university in an optimal way and enrich the academic lives of students by engaging with their peers from college students in the entire Arab world during their period of participation in the conference activities.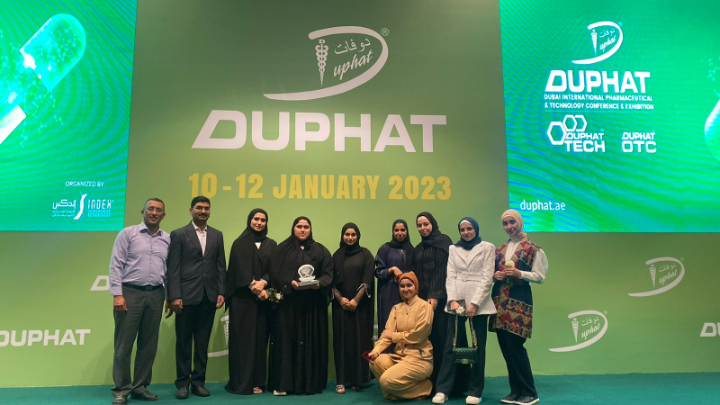 ---